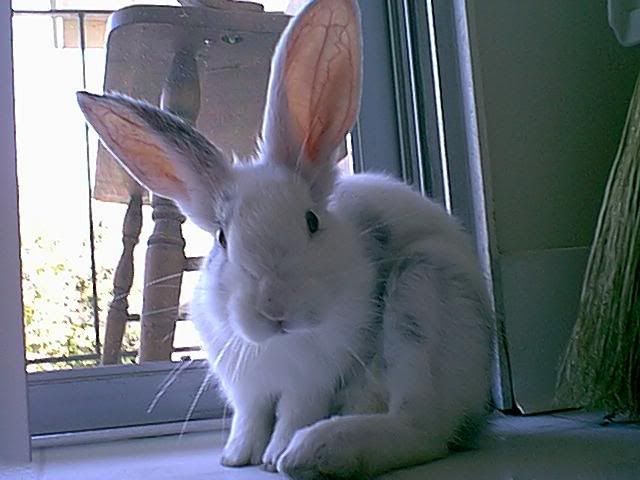 1) Do not bottle up emotions. When you are happy, run and jump and dance! When you are angry, growl and grunt and snap at the people around you! Bunn finds that a swift, hard chomp on someone else's ankle, leg, or arm is therapeutic for relieving anger, regardless of whether that particular person was at fault for your bad mood. Don't worry; they'll forgive you, since you're so darned cute. Don't worry about hurting their feelings. Your feelings are much more important.
2) Live in the moment. Do not hold simmering grudges. If the person you're angry with comes with a peace offering of fresh cilantro, by all means go for it with gusto! This is easier for Bunn than for us humans, since he has a four-minute memory span, but we can try. Forgetting and forgiving is much easier than resisting fresh cilantro to be spiteful!
3) Don't worry about your looks. While it is important to keep clean and fresh-smelling (groom, groom, groom!), it is not important to make sure that you only sit in graceful positions, and that people only see your "good" side. Feel free to flop out on the floor and let your belly hang out.
4) Don't worry about what other people think of you or your habits. Feel free to inhale your food instead of eating it neatly. Also, feel free to take naps in your litterbox.
5) If you want attention, don't pout that you're being ignored. Just walk up to the person in question and shove your cute nose in his or her face.
Remember--you are irresistable!
Tickle Tickle